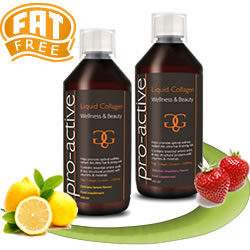 Pro-active Liquid Collagen is a unique dietary supplement of premium quality that helps promote optimal wellness and beauty. It contains essential amino acids and key structural proteins with vitamins and minerals.

High Collagen Content - 10 000mg
Food Supplement
For women & men
Hydrolyzed Collagen (Type II) of high quality, enhanced with Vitamins B1, B2, B5, B6 & Magnesium
With a very high percentage of oral absorption (more than 90%¹,²)
Available in two delicious flavors of Strawberry & Lemon
Fat-free
Up to date, not known contraindications or side effects  
Daily use of Collagen Pro-active is clinically proven that reveals your younger self!
How to use Collagen Pro-active:
Daily Dosage:
A measuring cup per day diluted in a glass of water or juice, is recommended, preferably before evening sleep. Shake well before each use. Store in a cool and dry place, away from direct light and below 25°C.
Keep out of the reach of young children. Safe to use. No side effects or contraindications noted and there is no prohibition to its usage. Consumers with allergies and/or any other medical issue should consult their doctor before consuming this product. Product does not contain any ingredients according to Directive 2013/13/EC & amendments and it is GMO Free.

Certifications & Patents:
FDA registration processed
EU & Africa registered* (Spain, Greece, Cyprus, Romania, Bulgaria, South Africa)
Hydrolyzed Collagen Type II is the only Collagen peptides with Patent protection within U.S.A. for the regeneration of cartilages
*Free Sale Certificate has been issued by the Health Authorities of Spain and Bulgaria so far.