Losing our hair - whether due to genetics or testosterone especially in Men, general hair thinning commonly in Women, loss due to medications, chemotherapy or damage caused by Hair treatments and braiding etc - can be traumatic and stressful - which often affects our confidence and how we present ourselves to the world.
Many different treatments and topical products are out there promising results - of which, some are effective. The New Injectable Dr CYJ Hair Filler from ProActive SA, has made treating hair loss much easier, cost effective and taken treating Hair loss to a new level! This is the 1st injectable Filler product in the world, for Hair and Scalp revitalisation. This product was developed using an Innovative Peptide complex to encourage Hair re-growth, prevent loss and maintain hair follicle activity. Use of the Hair filler does not rely on the scalps skin needing to absorb the product to be effective.
By injecting this innovative Sustained release complex of Peptides into the dermis of the scalp, where the hair follicles lie, places the necessary active ingredients directly into the area of concern, thus increasing efficacy and end result.
How does this Filler work?
Multiple Scientific and Clinical studies have shown that this injectable Hair Filler:
- promotes increased blood circulation to the scalp and hair follicles
- revitalises hair follicles and helps with Hair stem cell proliferation
- induces hair growth by increasing the size AND number of hair follicles
- prevents and reduces hair loss
- maintains hair growth
Indications - who would benefit?
- Men and Women suffering from Alopecia (Hair Loss) from multiple causes
- Men & Women who have general hair thinning and who want to prevent further loss
- Patients with damaged hair from braiding, hair treatments, hair dyes etc
- Hair transplant recipients who want to increase the transplants' survival rate and maintain success
- For those wanting to encourage stronger healthier hair - to prevent hair thinning with age before it happens
What can I expect during the Hair filler treatment?
The area of concern will be assessed by your Medical Doctor, and the treatment programme discussed with you, as this will depend on severity, size of area and cause of the hair loss.
If necessary, Topical Anaesthetic can be applied to the area of concern, although the procedure is not painful, some minor discomfort may be felt only due to the needle penetrating the dermis. The Hair Filler product will then be injected using a serial technique approx 1cm apart into the dermis of the scalp.
Initially, One treatment session every 2 weeks for 2 months is suggested (ie a total of 4 sessions). Thereafter, depending on your Doctors suggestion repeat sessions, can be administered. Single treatments sessions 3-4 times a year is often suggested to maintain the result for the long term.

Results obtained so far in our own patients, have been excellent - giving patients renewed confidence.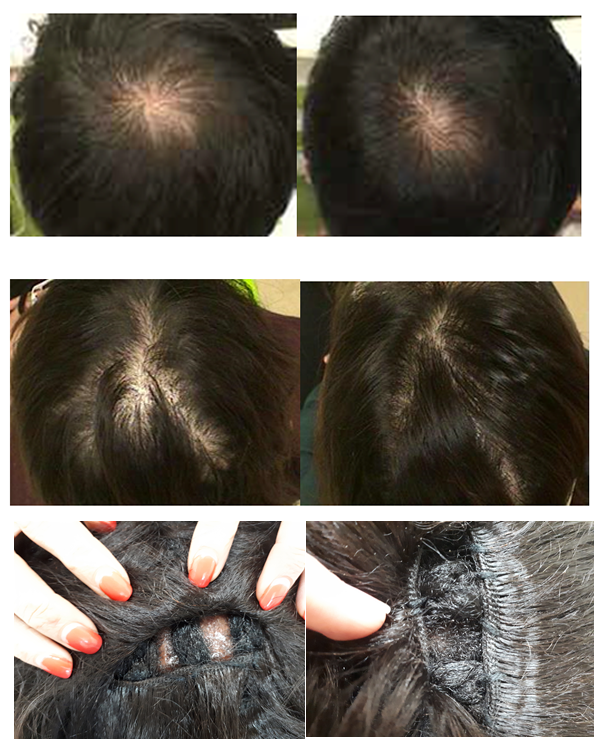 -- DOWNLOAD PATIENT BROCHURE --