Skin Rejuvenation Treatments for Comfortable Pigment and Vessel Clearance:
For many people, looking great is a simple matter of a skin rejuvenation treatment for pigment and vessel clearance to reveal clearer, more attractive skin. Palomar has a treatment for pigment and vessel clearance that's fast, easy and well-tolerated. Palomar puts the power of pulsed light and lasers in your hands to strategically clear vascular and pigmented lesions. The secret of our pulsed light's performance lies in our dual filter technology that delivers optimally filtered wavelengths of pulsed light, for results as good as or better than those of competitive single-application lasers.
You'll save time with one system for a wide range of treatment procedures, including vein removal, rosacea, telangiectasias, hemangiomas, sun damage, dyschromia, melasma, poikiloderma, and angiomas on the face and other body areas. Your clients will enjoy more comfortable procedures with excellent outcomes and less downtime. And, you'll both agree that Palomar simplifies skin rejuvenation treatments for the better.

How Skin Rejuvenation Works:
Palomar® offers skin care lasers and pulsed light devices that deliver energy to target and destroy vascular and pigmented lesions associated with spider veins, reticular veins, rosacea, telangiectasias, hemangiomas, sun damage, age spots, dyschromia, melasma, poikiloderma, and angiomas from hands, legs, chest, arms and face.
Using the principle of selective photothermolysis, these treatments target different chromophores in the skin, which selectively absorb the laser or light energy as heat and yield the desired response. These optimal wavelengths of light clear vascular and pigmented lesions by targeting the chromophores of hemoglobin (for vascular lesions) and melanin (for pigmented lesions). These damaged lesions are then cleared by the body, removing the appearance of the lesion from the skin. Pigmented lesions undergo a mild desquamation and slough off within two or three days, while the vascular lesions blanch and then resolve within 10 to 14 days .
Benefits for Clients:
Excellent aesthetic results with minimal treatment time.
Less treatment pain.
Little to no downtime.
BEFORE AND AFTER PICTURES - Vascular Lesions: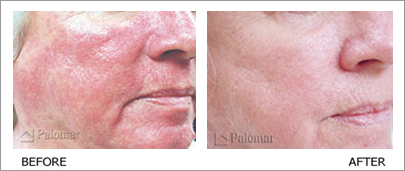 BEFORE AND AFTER PICTURES - Photofacials: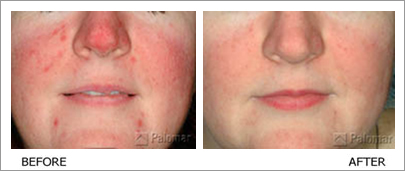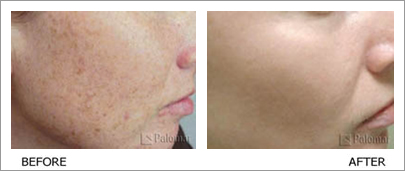 BEFORE AND AFTER PICTURES - Pigmented Lesions: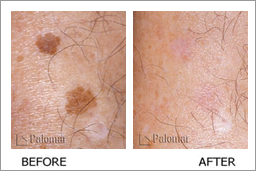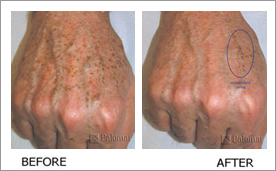 Post Treatment Guidelines - Pigmented Lesions:
A mild sunburn-like sensation is expected. This usually lasts 2-24 hours but can persist up to 72 hours. Mild swelling and/or redness may accompany this, but it usually resolves in 2-3 days. Apply ice or gel packs to the treatment area for 10-15 minutes every hour for the next four hours, as needed. An oral, non-steroidal anti-inflammatory medication may be taken to reduce discomfort.
Until redness has resolved, it is highly recommended to avoid the following:
o Apply cosmetics to the treated area.
o Swimming, especially in pools with chemicals, such as chlorine.
o Hot tubs, Jacuzzis, and saunas.
o Activities that causes excessive perspiration.
o Sun exposure and tanning to treated areas. Apply a SPF daily.
o Aggressive scrubbing and use of exfoliants on the treated area.
Bath or shower as usual. Treated areas may be temperature-sensitive.
The lesion may initially look raised and/or darker with a reddened perimeter.
The lesion will gradually turn darker over the next 24-48 hours. It may turn dark brown or even black.
The lesion will progress to scabs and/or crusting and will start flaking off in an average 0f 7-21 days. Do not pick, scratch or remove scabs.
The lesion is usually healed in 21-30 days. It will continue to fade over the next 6-8 weeks.

Possible Side-Effects:
A low risk of prolonged itching, redness and blistering.
Risk of hair removal in treated area.
A very low risk of bruising, peeling, rash, lightning or darkening on the skin color, ingrown hair, removal of freckles, crusting swelling and infection.
Scarring.
Advise your client being treated to call their treatment provider if side effects occur.